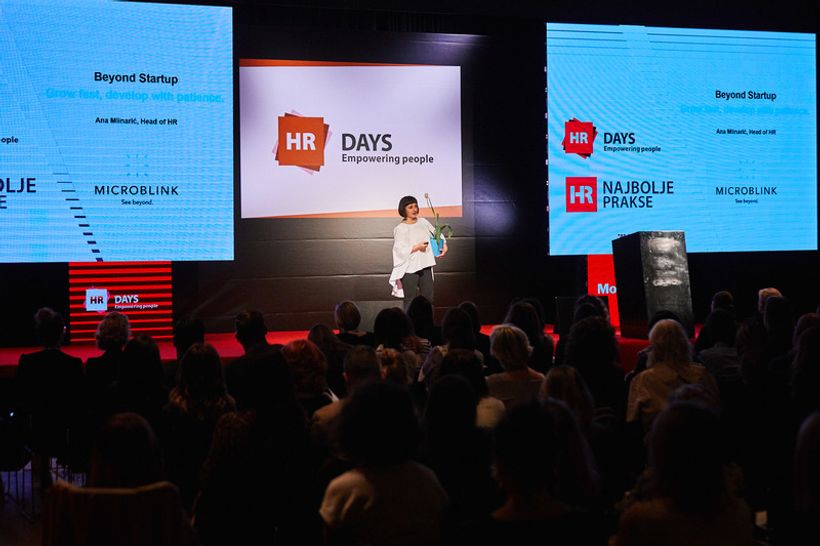 With the original project 'Beyond startup – Grow fast, develop with patience', the company won second place in last year's best HR practice award.
The MojPosao portal has been awarding the Best HR Practices since 2010, and our expert jury has so far had the opportunity to evaluate over 120 submitted projects and programs.
And in doing so, reward those truly creative, innovative and efficient, just like the project 'Beyond startup – Grow fast, develop with patience' with which Microblink ranked second overall last year.
On the eve of this year's selection of Best HR Practices, which will be held within the HR Days Conference in Rovinj, we spoke with Anom Mlinarić, Head of Human Resources Department of Microblink.
Last year, you impressed us with a story about solutions that responded to the challenges of accelerated organizational growth you faced. Can you bring us closer to the background of your project 'Beyond startup - Grow fast, develop with patience'?

We are a company that started with one visionary and two engineers, from a small office in Trešnjevka. From the very beginning, we have been dealing with solving practical problems that we have encountered in our daily lives. Our desire was to use advanced technology to automate and avoid manual, tedious, and inaccurate processes. Our first product PhotoPay today it is the standard for digitalized bill payments in Croatia and most of the world. Over the last 7 years, millions of people have used our solutions, through the systems and applications of over 500 companies that are our customers. To date, our vision is the same: to use cutting-edge technology to make people's lives easier, save time and increase the accuracy of manual processes.
In the first years, organizationally we were a typical start-up story: brave for new ways of working, free for risk and research, involved in a clear common goal, and ready for quick decisions. There is no organizational or cultural hierarchy among employees, the cooperation is well-intentioned and friendly, we are authentic.
In the coming years, we grow as an organization, in revenue and products. We receive numerous awards for technology, products and business success…
There was a need to manage rapid organizational growth. The good ways so far have been challenging due to the large number of new people and the rapid development of new products.
There was no longer sustainable "everyone-to-everyone" communication at the informal level alone. Now decisions had to be made strategically and in the long term, and it had to be ensured that everyone clearly understood the direction and goals. Structure and processes have become necessary. In the culture, there was resistance to the classical hierarchy in the background, which was the fear that the spontaneity and quality of communication would be lost.
We wanted to balance organic growth and a digitized approach with structure and focus..
Instead of the management defining the processes and structure with HR and other relevant roles , we initiated a one-year project "Beyond startup - Grow fast, develop with patience". The main purpose of the project was to talk, agree, align and moderate on how to transform Microblink from a startup to a mature organization. We started with the question: "Who, what, and how works at Microblink?", and set as a general goal a better definition of work roles that will enable the safety, understanding and engagement of every Microblink employee.
The basis of the project was the process of creating a description and updating of all positions in the organization, starting with the leader, but during the implementation it was extended to other activities. We realized some of them immediately, when the need arose, while some are still maturing.
We wanted to maintain the values typical of a start-up environment (enthusiasm, involvement, agility, courage, creativity, authenticity) and develop ways and values of a mature company (clarity, strategic approach, role scaling, efficiency, new knowledge). The principle of "good measure" and balance was a key note in the management and implementation of the project. The second principle we were guided by was "give enough time and patience to talk, agree and coordinate". We realized that any other way would be too long, incomplete and would seriously undermine the culture of trust, openness and togetherness that we wanted to consciously nurture.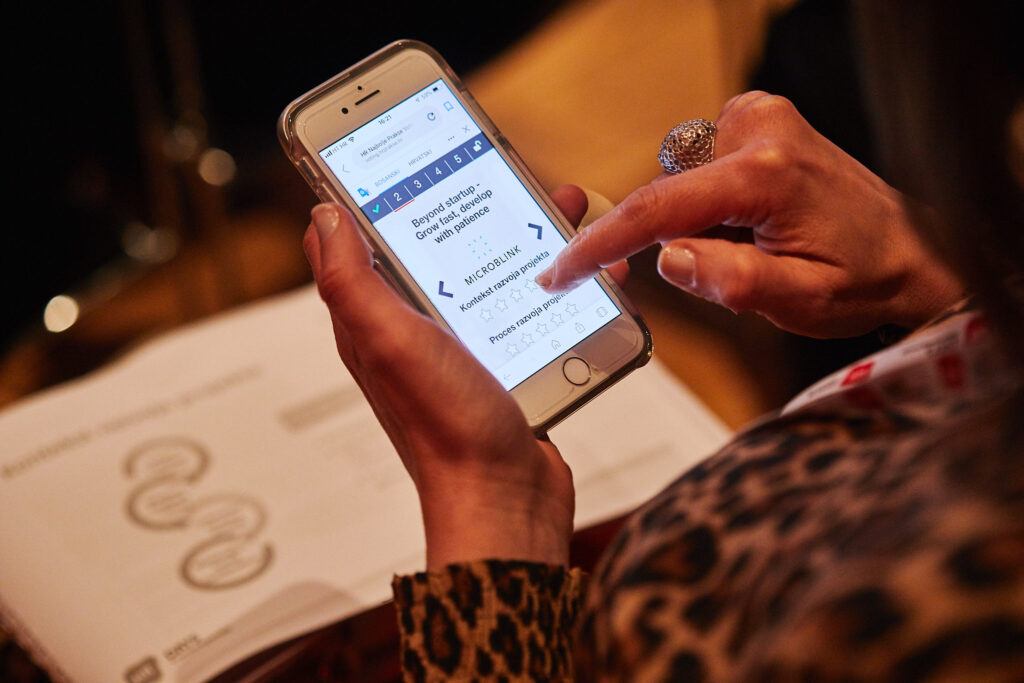 What effects did the project have on the overall business of the organization, ie on the satisfaction and commitment of your employees?

With a careful and thoughtful approach to defining each job role with the help of employees, we supported their engagementbecause they were active participants in creating their own workplace. A good measure between freedom of one's own ways and contributions and structure and clarity, refreshed the motivation and enthusiasm in the organization. Numerous initiatives are emerging to change and improve processes within the organization.
Each position was discussed exactly when needed, and the need for new job roles was defined accordingly. With clarity, we set out to fill new positions that proved necessary, and we did not have the resources within the organization.
Involving employees has increased their sense of contribution, helped them understand the importance of their work role, and developed a culture in which everyone has a responsibility for their own development, progress, and work role. Employees are even more looking for development support, concrete advice and are ready to step out of a typical role, wanting new responsibilities and responsibilities.
Employees got to know each other who is doing what, which is extremely important for achieving goals, understanding strategy and looking in the same direction. Given that the Management and leaders were involved at all times (directly and indirectly) in the project, they received clear information from the organization about the needs and resources for future development, so they relatively easily agreed on strategic direction and goals for the future.
It has been shown that when we talk about work in a benevolent and focused way, we get to know each other and connect better as people, we care and work together.
After realizing the need, time and focus was given to the development of informal leaders who sovereignly took on leadership roles and formally and continued to develop. The result has been a stable first line of leaders, who are more mature and ready to lead the team and can take a strategic position in decision making. Greater clarity about resources, new ideas, and a strategic approach through conversation (often bottom-up) has directly influenced decisions about which products to focus on and which to give up in the coming period.

Today, at the beginning of 2020, we are pleased to have approached rapid growth in a patient "gardening" way. There were times when it was challenging and frustrating to invest time in development and conversation while "work waits", but because of the great confidence that this is the right way we went through this phase of organizational development in a disciplined manner and this, although paradoxical at first glance, actually supported profitability.
We continue to grow, at the same fast pace, and we nurture the stable development of Microblink in cycles, smarter and with greater ease.

In the last few years, the number of your employees has increased significantly, in 2013 you started with only 6 employees, and now, almost seven years later, you have about 70 full-time employees (plus 45 students). With the growth of the number of employees, 'hand in hand' comes the growth of the challenge of the work of the HR department. How do you deal with this and has the role of the human resources department in your company changed over the years?

It has changed a lot, of course. Through this project, the role of HR as a function became clearer to the organization. In addition to recruitment and selection, all employees, from their own experience, begin to see what competencies and type of support they can count on from HR. The number of arrivals, inquiries and calls to HR has increased significantly. This allows us to give support on time, anticipate and be involved in all organizational topics.
The function of Human Resources have grew form operative to strategic function, which shows an increase in the team by 6 times (and we plan to grow as a team). A leading role of HR has been created, and HR initiates or is involved in strategic decisions and is a daily interlocutor for the Directorate for key topics.
Since last year, for the first time, one of the three key strategic determinants of Microblink is human development - the development budget in 2019 is twice as large as in the previous year. In this, in 2020, it still grew 🙂
During this project and other activities during the year, the Management Board gained a high level of trust and understanding of the function of HR, which allowed us great freedom and autonomy in decision-making and action.

A new business year is ahead of us, what would you like to wish yourself and your colleagues from the HR community in 2020?

Courage and confidence that it is possible to initiate and achieve changes that will make a big difference and directly contribute to the success of companies. Because that is our job: to support the business by supporting everyone in the organization, layered, professional, smart and focused. And of course, this year to choose employers with whom we share passion and values, with whom it makes sense to work. I choose Microblink again!